In 2008, Nissan decided that an outsider needed to beat the establishment and raise its middle finger to Porsche, Audi, and BMW. Nissan accomplished this by releasing Godzilla, or as we all know it, the GT-R. The GT-R further added insult to injury after posting a 7 min 29 sec lap at the Nurburgring, causing BMW, Porsche, and Audi to hit the drawing boards. Regardless of what the establishment said, the Nissan GT-R was officially labeled a giant-killer and even Ferrari had to watch its back.
The Nissan GT-R (R35) was first sold in the US as a 2009 model starting in July 2008. Why R35? The Japanese chassis code for the GT-R is CBA-R35. In Japan and other parts of the world, there has been a Nissan Skyline GT-R sold from 1969-1973 and 1999-2002. From 1989-1994 the chassis code was BNR32, 1995-1998 was BCNR33, and 1999-2002 was BNR34. Even though the "Skyline" name is no longer formally used by Nissan, there are still people that refer to the R35 GT-R as a Skyline GT-R.
Driving Experience
Beneath its square-jawed bodywork, this GT-R packs an unprecedented arsenal of performance hardware: a twin-turbo 3.8 litre V6 generating 480 hp and 430 lb-ft of torque, a six-speed dual-clutch paddle-shift transmission, ATTESA ET-S four-wheel drive, Vehicle Dynamics Control, adaptive dampers, and onboard telemetry. Nissan claimed 0-62mph in 3.8 sec and a top speed approaching 200 mph. Quite impressive when you consider that the GT-R weighs 3850 LBs.
Driving Godzilla is definitely a unique experience as almost nothing compares to its launch power and overall performance. The GT-R is big, but still manages to move its rear-end around corners faster than most Porsche 911s. The Nissan GT-R has divided the performance world: Porsche and Ferrari fanboys hate on it, while others love it for its raw power. I can't properly relate the way it relentlessly surges forward, interrupted only by the briefest of moments as the twin-clutch gearbox rapidly changes gears.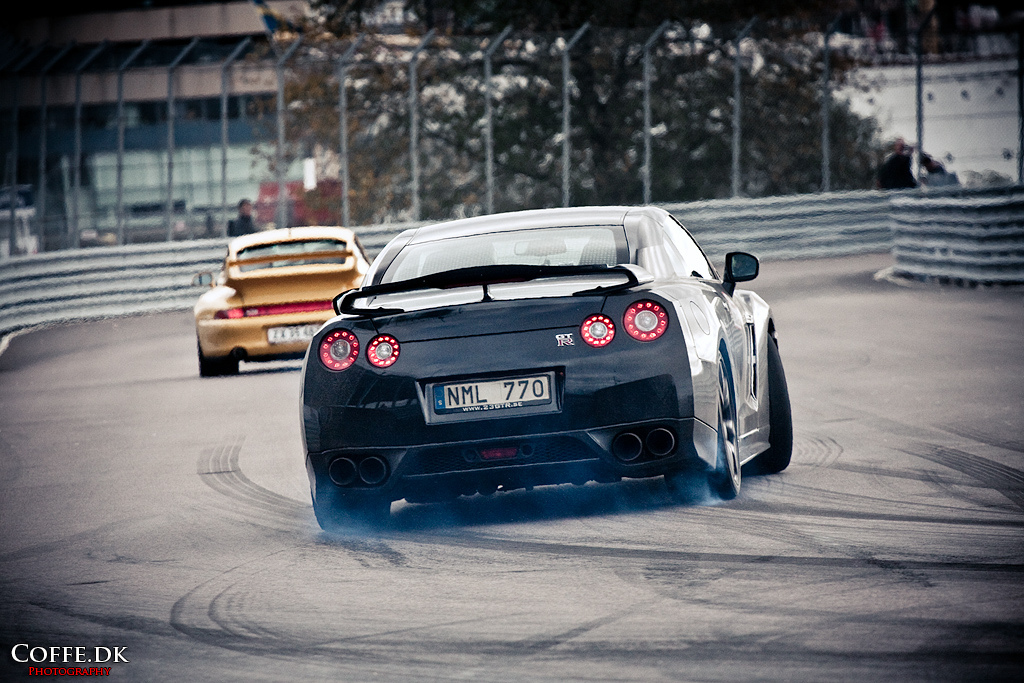 Many journalists have noted that driving the GT-R is almost like playing a video game as everything is almost too easy. Sure, the GT-R may be stuffed full of electronics; but the overall vibe of this car is a mechanical one, and a hefty one at that. This has been the largest complaint from automotive enthusiasts.
The connection between driver and machine sometimes fades away, but the sheer performance continues to keep a smile on your face. When you're being particularly silly, you can feel the four-wheel drive system redistributing the torque long before any electronic nannying kicks in. Yes, perhaps it is a tad easy to drive, but it always offers an involving drive. The sheer laws of physics that the GT-R constantly disrupts makes you really wonder how can a car this affordable be so good.
Not everything's perfect with the GT-R, of course. The interior is looking dated now, and comes complete with a rather terrible navigation system. Also, rear visibility is pretty shocking. Remember this is Nissan, not Ferrari or Porsche, meaning interior trim and design was an afterthought to the GT-R's engine and suspension. The dashboard does seem "plasticky" but the neat g-force meters on the screen make up for the rather poor interior. 
Common Problems and Issues
Transmission
The biggest issue that most GT-R owners will face is their GR6 transmission unit. In fact, there were several issues that stemmed from the transmission.
Early models are known to have big problems with the control solenoids, which can lead to broken or worn components. Inside the transmission case, metal bits can become accrued if not serviced and get jammed in the solenoids causing failure. There have been reports of 2009 models with LC1 Launch Control snapping first gear from hard launching. These are expensive to repair, mainly because Nissan insists upon not supplying any gearbox parts.
If the transmission detects issues, it is prone to switch to a safe mode that only allows shifting of the gears from 1-3-5 or 2-4-6 depending on the failure. This means that you should be especially vigilant when purchasing a used model, ensuring that all the gear changes are smooth and quick.
The good news is that the clutch is designed to last the entirety of the cars' lifespan. The bad news is that Nissan dealerships actually don't service transmissions. In the event that you do face a transmission issue, Nissan will simply replace your transmission rather than trying to fix it. This means that you're easily out $10,000 or more before factoring in labor costs.
Noises and Rattles
The most frequently occurring problem you're likely to experience with the Nissan GT-R is known as bell housing rattle. This fault is known to the manufacturer, although they haven't managed to come up with a solution for it to date. It's caused by a loose bearing at the end of the flywheel shaft, which moves about and vibrates in its casing. All models and makes of the car are known to exhibit signs of this problem to some degree, which will only become a real problem if the bearing suffers from extensive fatigue and wear. Although the part shouldn't be that expensive, it won't be the easiest engineering job to fix it.
Although Nissan made attempts to improve sound deadening, at the end of the day, this is still a Nissan so don't expect the car to be whisper quiet.
Lighting and Headlights
Believe it or not, one of the problems you're likely to experience with the Nissan GT-R is condensation within the headlights. This is due to a design issue with the headlamp's vents and seals. This is an easy one to spot, as you should be able to see drops of water on the inside of the unit with your naked eye. Unfortunately, you cannot take the unit apart and clean it or clear off the water, and you'll have to purchase a replacement part. There are some suggestions that this problem can be avoided by paying special care and attention to the lights and the housings when washing the car, or even avoiding driving it in the rain (although this is terribly impractical). We assume that Nissan corrected this with the new redesigned headlights in 2015.
The early GTRs (CBA-R35) also have issues with the LED lighting failing inside the instrument cluster. Nissan has since fixed the issue on new models, but will repair under warranty.
Maintenance and Cost of Ownership
Nissan treats its GT-R customers right by offering a specialized Point of Service (POS) annual check-up for GT-Rs under warranty. All of these updates and diagnostics are done through Nissan's CONSULT III software.
This POS includes several components:
Alignment – There are two factory specifications for both track and street; Nissan will do a free alignment for you.
Transmission Adjustments – Nissan has released a new software update for the transmission nearly each year since the GTRs release. Transmission updates are free and also help recalibrate the transmission clutch engagement points.
Intake Balancing – Nissan will adjust the air intake to re-learn the airflow from each bank for a smoother idle.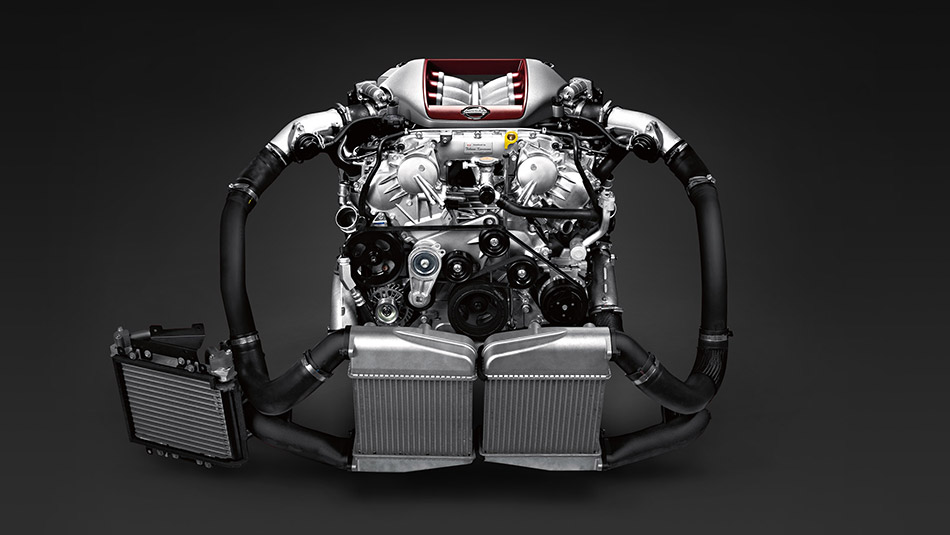 For most enthusiasts, you can expect the following for maintenance costs:
Oil Changes are about $200 every ~6,000 miles
Transmission and Differential Fluid Change will cost you about $2,000 every ~18,000 miles
A set of high performance tires will run about $2,000 and need replacement every ~10,000 miles
Brake pads and rotors are not cheap if you use only OEM parts, and will cost you about $6,000 every ~24,000 miles
Service Intervals
1. Six Months or 6,000 Miles
Owners should change the oil and filter and get a qualified Montgomeryville technician to inspect brake pads and rotors, steerage gear and linkage, ball-joints, exhaust system, axle and suspension parts, propeller shaft and drive shaft. Cost is around $150 from an independent shop.
2. One Year or 12,000 Miles
One-year service requires another oil and filter change, replacement of in-cabin micro filters and inspection and replacement of any worn parts. Systems to inspect include brakes, exhaust, differential oil, transmission oil, steering assemblies, air-pump cleaners, driving performance at low and high speeds, and an examination of suspension systems and the throttle chamber for irregularities and mineral deposits. Cost is around $300 from an independent shop.
3. Eighteen Months or 18,000 Miles
Engine, differential, and engine oil and filters need replacement at this time. Technicians should inspect all the same systems they examined for the six-month check. Cost is around $1,200 from an independent shop.
4. Two Years or 24,000 Miles
Repeat all the inspections and oil changes for one-year inspections and replace engine coolant. Similar inspections and replacements should continue at six-month intervals, repeating the cycles of maintenance. Hard driving, bad weather, or heavy city driving could accelerate the timetable. Cost is around $400 from an independent shop.
Nissan GT-R (R35) Model Year Differences
2009
This was the introductory year for the Nissan GT-R. Nissan offered the GT-R in two trim levels: Base and Premium. The differences between the two trim levels came in the Premium where it had a Bose 11 speaker stereo system, standard heated front seats, higher performance tires, standard front and side airbags, and darker colored wheels. However, both trim levels had the same power output of 480 HP.
Very few options were offered, but customers had the option of ordering: iPod connector ($360), GT-R floormats ($280), Super Silver Paint ($3,000), and a Cold Weather Package (No Charge).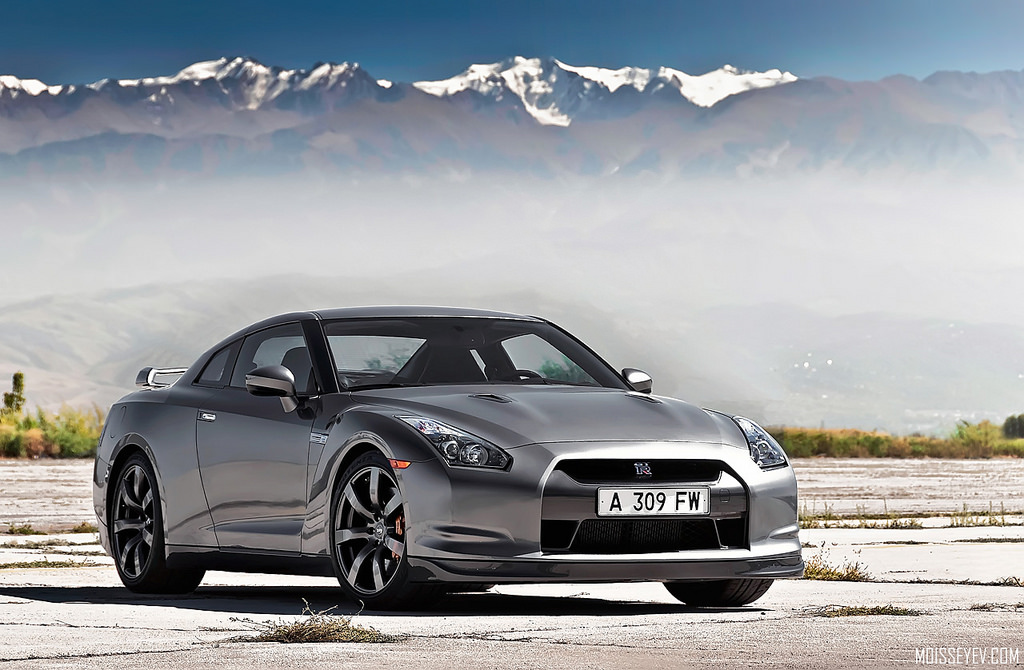 2010
The power output got bumped up to 485 HP for the 2010 model years. Front and side airbags became standard on both the Base and Premium models. The transmission TCM software was updated to LC2 for safer launching and covered under warranty. The brakes previously only had the Brembo logo in 2009, but now included both Nissan and Brembo logos. On the topic of brakes, the brake lines were also more rigid. Nissan continued to refine the suspension with revised damping and spring rates through the aid of Bilstein. Both trim levels featured slightly different wheel finish colors. In comes the Pearl White paint finish and out goes the Titanium paint option. The available options from 2009 also carried over to 2010.
2011
In 2011, Nissan merged the trim levels and only offered the Premium to simplify things. Nissan continued to refine the suspension this year yet again by adjusting the damping and spring rates in an effort to improve comfort while sustaining its known handling characteristics. Auto on/off headlights and speed sensitive windshield wipers became standard features.
Perhaps the biggest change was the improvement of the entertainment and navigation systems. The CF card reader was replaced by a USB port, but if that doesn't fit the need, streaming Bluetooth audio was implemented. The navigation system added XM NavTraffic and NavWeather capabilities.
Nissan, again, adjusted the TCM for the transmission in 2011 and released the LC3 launch control software. Launches are under warranty just like the previous year.
2012
2012 was the introduction of the completely refreshed mid-life cycle GT-R (commonly known as the DBA-R35). The Premium model was still the standard model available, but Nissan massaged the engine to increase power output to 530 HP by tuning the engine mapping, valve timing, exhaust, and air intake inlets. Handling was again improved with the addition of a new more rigid front strut bar, larger 390 mm front rotors (up from 380mm), lighter and stiffer wheels, and new Dunlop tires. Again the launch control software was improved and released as the LC4 update. However, only four consecutive launches are allowed before requiring a cool down.
Noticeable changes on the exterior distinguished the 2012 Nissan GT-R from its older counterparts through the slightly redesigned front bumper with integrated LEDs and rear bumper with additional cooling ducts. The wheels were changed to a split spoke design.
The interior impresses with a completely new HDD CARWINGS navigation system and added sound deadening for even better everyday usability.
Deep Blue Pearl was added as a color option and there was an all new $600 rearview camera option offered for the first time.
Black Edition
2012 was the first year for the first special edition GT-R offered by Nissan. The Black Edition came in at $5k above the Premium model with key differences being a red/black interior and leather Recaro seats, black headliner, and lighter six spoke wheels. It's debatable if it's worth the money.
2013
Power output increased 15-hp for a grand total of 545 HP and 463 lb-ft of torque. Exterior was nearly identical as 2012, except for a dry carbon spoiler for the Black Edition model. The previously $600 rearview camera was now standard. Nissan kept tinkering with the suspension which resulted in higher spring rates. LC5 transmission software was released. Otherwise, the 2013 model year was modest in differences.
2014
Nissan finally recognized its engine builders by adding a nameplate to the engine block. The Black Edition was same as 2013, but Nissan decided to change the steering wheel to red/black as well to match the rest of the interior.
For Premium models, Nissan added some excitement into the interior by offering an Amber Red interior as opposed to the typical gray/black. Otherwise, the car was the same inside and out. The biggest change came with the introduction of the Track Edition model.
Track Edition
For the hardcore track enthusiasts, Nissan offered the limited edition (150 built) Track Edition GT-R for an additional $16k. What made it so track worthy you ask? Well for one, it removed the rear seats to 'save weight'. Borrowed over from the Black Edition are the RAYS forged aluminum wheels and dry carbon rear wing. Inside you'll find suede seats and a Track Edition badge to remind you of your track capable machine. No power input is necessary for this model but you will find a new front lip spoiler that has integrated carbon fiber ducts and brake cooling guides. On the suspension end, the Track Edition offered special edition Bilstein shocks with higher spring rates that got its specifications from thorough testing at the Nurburgring. Spend $16k for better suspension, but no rear seats? Not sure if that's a fair trade off.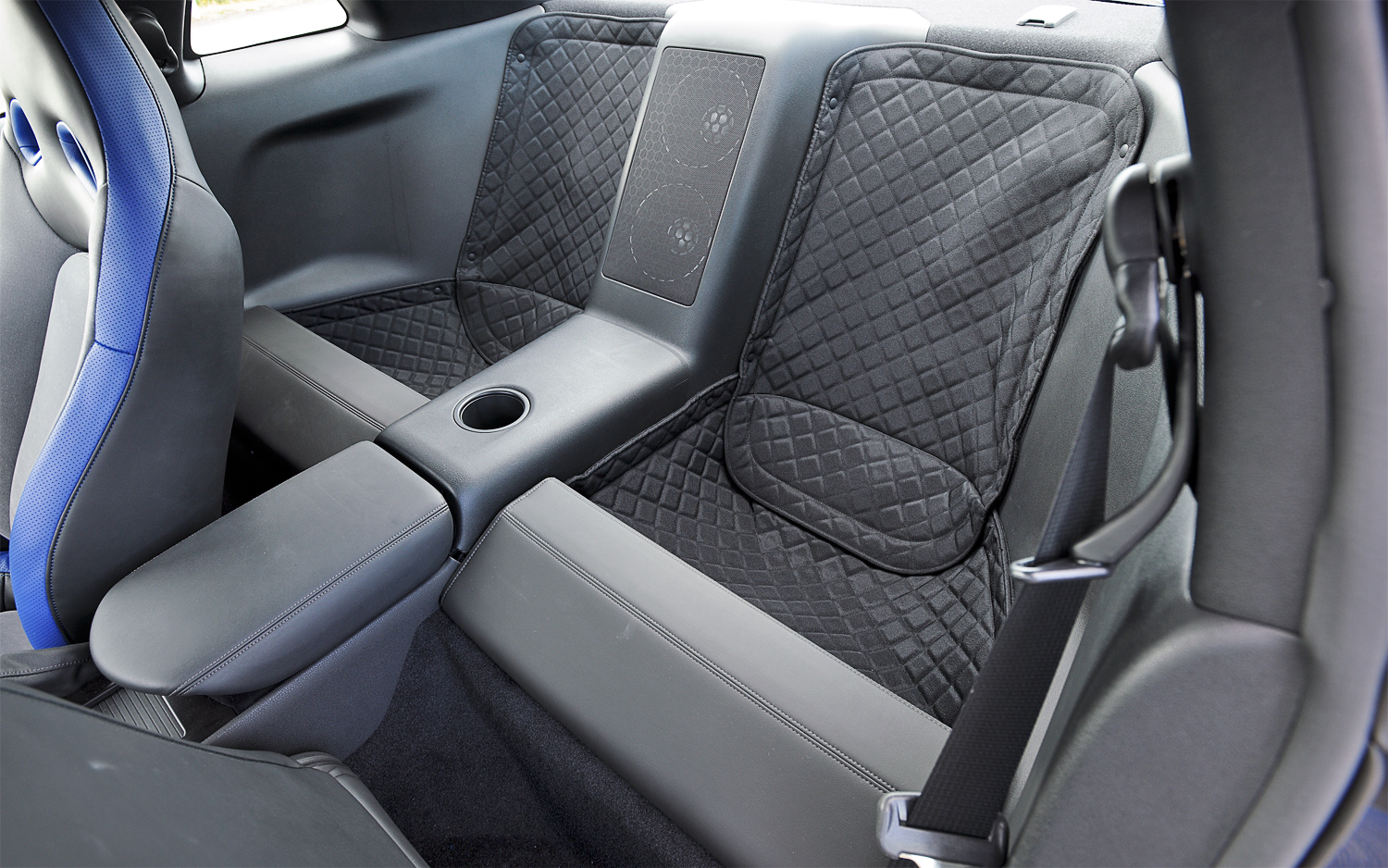 Midnight Opal
The rarest of them all, Nissan offered a very, very limited edition Midnight Opal color with only 50 sold in the United States. This is the fourth GT-R of the lineage to carry this hue and commands a $6k premium over the Premium model. Other changes include a dry carbon rear spoiler a la the Black Edition and light bronze forged aluminum wheels.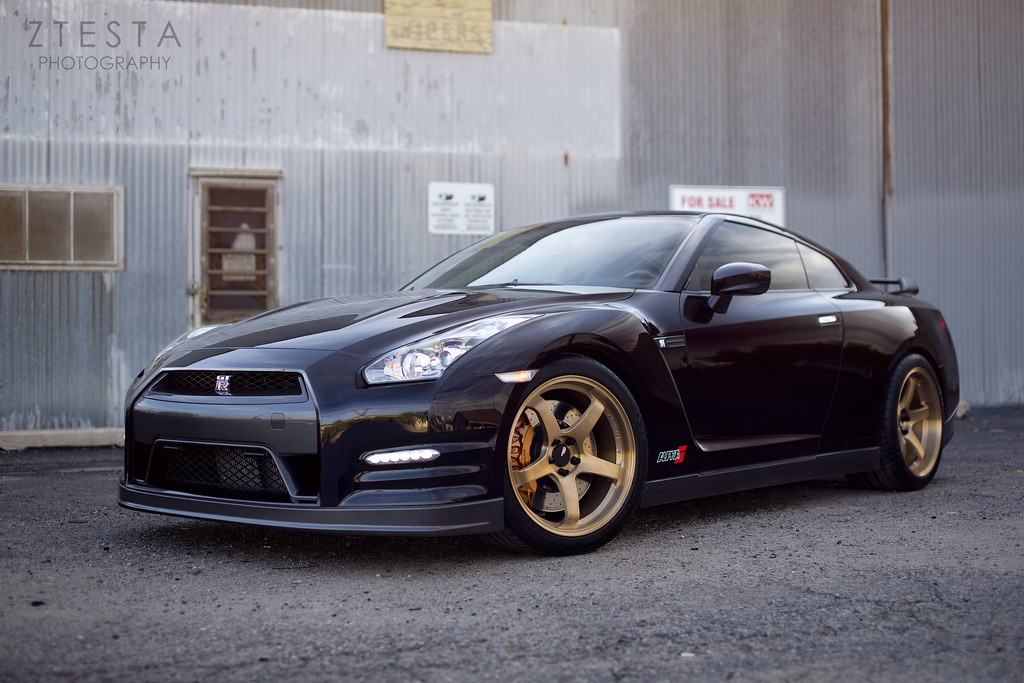 2015
Nissan's beloved GT-R is becoming a dinosaur in at this point so refinements continue into this year. The most noticeable change were the redesigned headlights and taillights. Same design and shape but different LED patterns. Regal Red is added as a color option for the exterior, and Ivory is added as an option for the interior. The Bose stereo system gets active noise reduction that is rumored to reduce outside noise by as much as 10 db. The instrument cluster gets carbon fiber accent and the multi function display (MFD) display gets a new design. Of course the suspension is tweaked again for a more compliant ride.
On the Track Edition, Nissan for some reason adds back in the rear seats and side passenger heater, but in exchange the trunk is switched to carbon fiber material.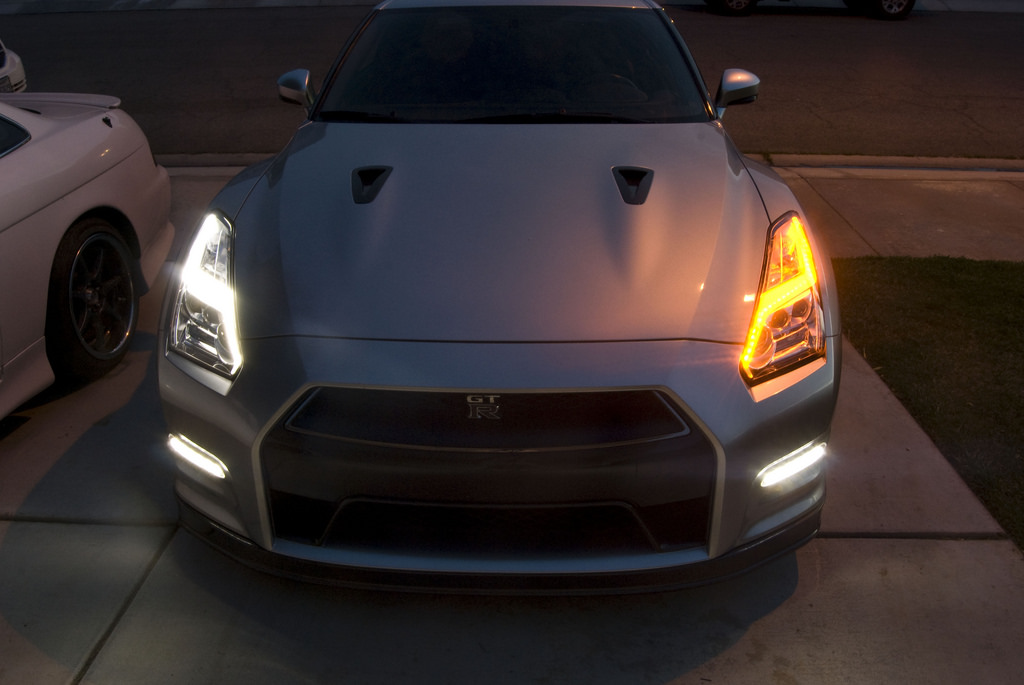 NISMO Edition
With this generation's GT-R coming to an end, Nissan unleashes the ultimate GT-R: the NISMO GT-R. True to the NISMO (Nissan Motorsports) philosophy, the NISMO GT-R reaches a peak power output of 600 HP and 481 ft-lb of torque. This power increase wasn't the result of a tuned engine, but rather completely larger turbochargers borrowed straight from the GT3 GT-R racecar.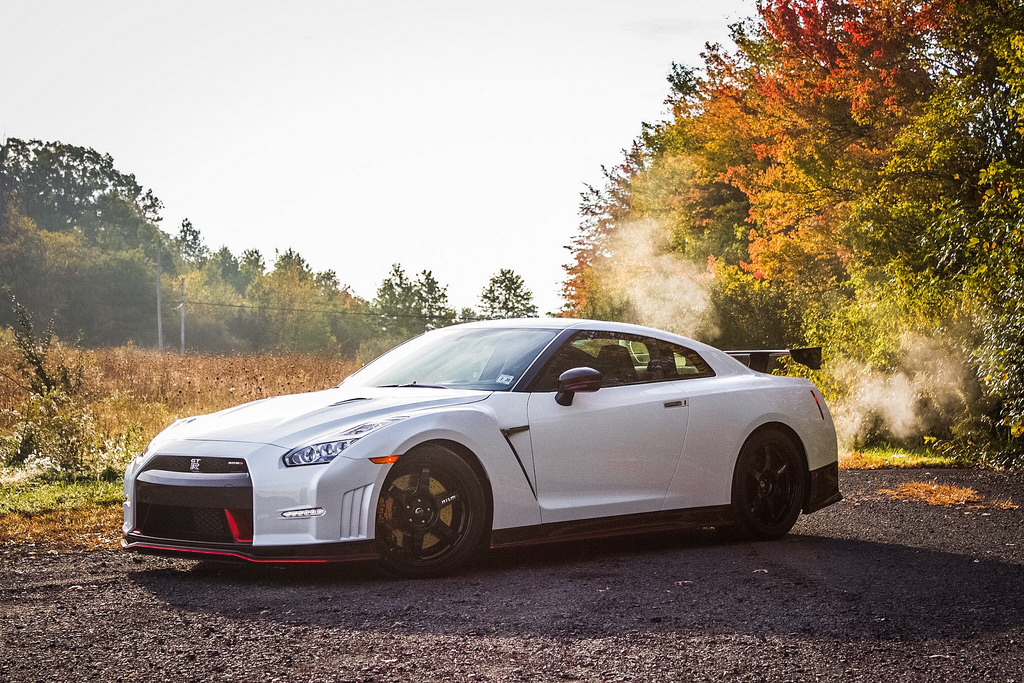 This was also the first model of the GT-R to divert away from the traditional body style. An all new wider carbon fiber front bumper, carbon fiber side skirts, carbon fiber rear bumper, carbon fiber undercarriage, and carbon fiber rear wing all come together with one goal: downforce and less drag (0.26 cd to be exact). Although the GT-R NISMO was available in several colors, you can most recognize it from the large rear wing or red accents along the lower portions of the cars bumper and side skirt.
To perfect the handling, the GT-R NISMO has reinforced the chassis, revised the suspension links, larger rear hallow anti-roll bar, aggressive Dunlop tires, and new spring rates to match the DampTronic Bilstein shocks.
Inside the car you will find a new suede steering wheel to grip, a red faced tach in front of your face, and a slightly modified Recaro seat borrowed straight from the Track Edition.
Bring this all together you get the GT-R NISMO, or what I'd wish the Track Edition was in the first place. With great power comes a hefty price tag, and that brings the Nissan GT-R NISMO to an MSRP of $149,999, putting it clearly in Porsche 911 Turbo S territory.
MSRP Increase Over the Years
Best Nissan GT-R for The Money
When the time comes for you to hunt down your GT-R, it really is a no-brainer to go for a 2010-2014 car. The improvements that come in the 2012 model year alone are worth the $10,000 premium over earlier model year GT-Rs. You get nearly 95% of the performance of the latest model for $20k less. If you can find a clean and moderate to low mileage 2012 Nissan GT-R for under $60,000, then that would be the best GT-R to buy in our opinion.
The earlier GT-Rs (09-11) can be bought for cheap now since the demand is less. These cars only make sense to purchase if a) you don't mind risking a transmission failure and possible $15k repair bill, or b) if you plan to modify your GT-R and plan a full build from the ground up. In that case, the 2009 GT-R is a wonderful foundation.
However, the rarest of them all is the limited edition Midnight Opal color, but your chances of acquiring one are slim as all 50 were sold within the first two weeks of release. Also, the Amber Red interior found in the 2014 models command a $2-3k premium over others.
Conclusion
In the end, the Nissan GT-R will make a fanboy out of any automotive enthusiast, even if you prefer a six speed manual. With the ability to beat Porsche 911s and take Ferrari's lunch money, the Nissan GT-R has finally disrupted the performance car market. The Nissan GT-R has become one of the most polarizing performance cars in history and will continue to cause mayhem for future years.
Buying a used Nissan GT-R is a risky endeavor, because you might not get a pristine example. Be prepared to pony up a few more Jefferson's to buy a GT-R that hasn't been launched or relentlessly tracked. Also make sure your pre-purchase inspection covers the transmission for earlier models as they tend to fail. Every time you encounter a 911 or Ferrari at a stop light, remember they might have nicer interiors, but they will never beat you on the drag strip or the race track. The GT-R will officially make a fanboy out of you and anyone who rides shotgun with you.
Hack-Ability Meter