Meet Micah: How a 24 Year Old Made $5,400 Driving an Aston Martin Vantage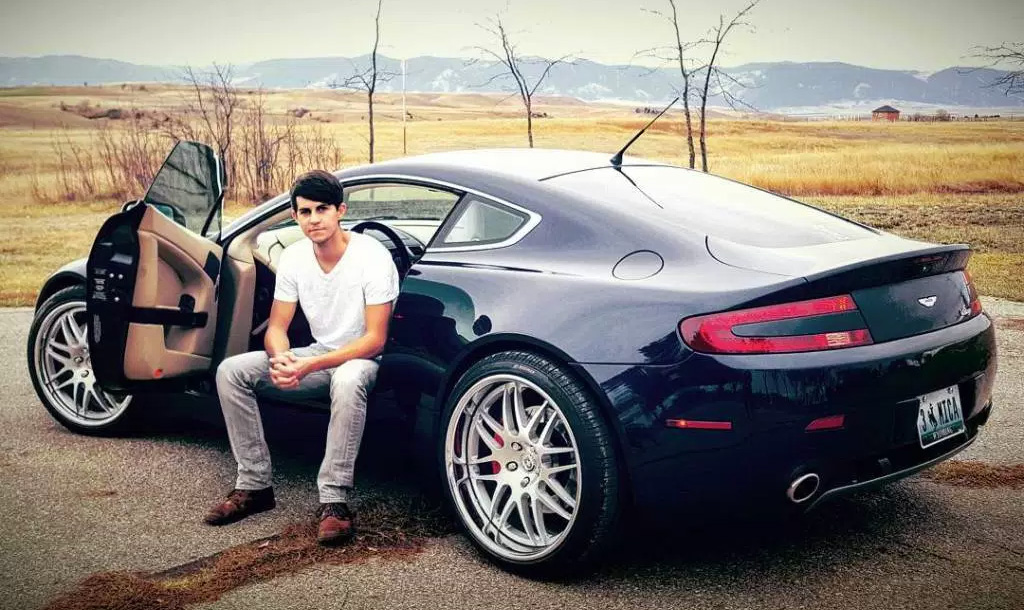 For some of us, cars (exotic or not) are something we learn to love and with time and age we come to respect these great machines.
However, for Micah, the love of cars came from an early age. It started with getting down and dirty in his dad's garage with a 69′ Camaro and now his passion and hard work has taken him to the driver's seat of a beautiful 2007 Aston Martin Vantage.
Tell us a little bit about yourself:
Micah: My name is Micah Trampe and I, like probably 99% of you reading this, am a car fanatic! My other passion in life is art. I'm currently 24 years old and live in wide-open Wyoming.
Contrary to popular belief, we don't just ride horses in Wyoming, but exotic cars ARE pretty much non-existent… I got hooked on cars at a very young age. My dad would give me rides in his '69 Camaro when I was a kid and would always let me help him work on it. He has owned it since he was 17 years old.
I loved the noise it made, how it sucked me back in the seat, and the bond that my dad had with the car. I couldn't wait for the day that I could have a car of my own. Since I got my hands on my first car, I've been completely addicted.
What is your profession?
Micah: I would like to consider myself an aspiring serial entrepreneur. I say "aspiring" because I'm still trying to narrow the cast amount of random things I do into a focused business.
So, currently, my profession consists of multiple different things.
As an artist, I sell my own artwork and do graphic design work for clients on a contract basis.
I also have a business that installs protective wraps on vehicles. I have been working to develop a brand surrounding my passions as well.
More recently, I have been working on a project that helps charities raise money too.
AND I've been flipping cars on the side for quite some time, but non quite as exciting as my first exotic!
First car and why?
Micah: My first car was a 1966 Ford Mustang coupe. I had been drooling over cars for years by the time I finally got my own. I received it as a present for my 15th birthday and it was in pretty rough shape. It needed a full restoration.
My dad helped me restore it to drive to high school, and since then, I have been hooked on buying, flipping, and selling cars.
I am a big DIYer when it comes to cars, and it all stems from this car. I still own my '66 Mustang, and it's priceless. I recently had it professionally repainted after adding a bunch of new parts, so it looks really sharp now.
First exotic car using Exotic Car Hacks methods and why?
Micah: The first car that I bought with the help of Exotic Car Hacks was a 2007 Aston Martin Vantage. I would constantly dream about exotic cars on eBay, but I just relented to the fact they were out of reach.
In 2014, I noticed that many of the V8 Vantages seemed to be fairly reasonably priced, reaching down to what you would pay for a new muscle car. I've loved Aston Martins ever since I saw my first James Bond movie.
I began to research them more online to see what I could found out about the big scary word: maintenance. As I was searching, I found an Exotic Car Hacks article online that went into depth about the true maintenance costs would be when owning a Vantage.
After reading the article, my fears about spending tens of thousands of dollars at the dealership to get my car fixed were put to rest. Less than a month later, I was the owner of a well-kept Aston Martin, a car that I thought I would need to save money until I was 60 to own.
$42,500 – purchase price
$12,500 – down payment
$2,000 – wheels (Sold for $3,500 off the car & recouped money for parts)
$1,500 – parts
$47,900 – selling price
Profit – $5,400 (excluding taxes, plates, & oil change)
I had a 6-year loan with 4.9% apr and a $575 monthly payment (I had them include tax and plates in the loan also).
How has Exotic Car Hacks helped you when it comes to car research and buying?
Micah: The program is a great resource. It gives a regular guy like me access to information to which I normally wouldn't have access. Where I live, people just don't own exotic cars. I can honestly say that I had only seen one Aston Martin in person before I purchased mine.
To have access to a group that allows me to discuss exotic vehicles with experienced owners is fantastic, not to mention the individual vehicle-specific articles. It's awesome to be able to know what to watch out for on each model.
Exotic Car Hacks will teach you how to buy and sell an exotic car from start to finish. If you have absolutely no car buying experience whatsoever, you'll still be able to understand the process though this program.
Since the exotic market so is different from the regular car market, I would definitely recommend this program to anyone who is really ready to stop just dreaming about a dream car.
Best advice for someone looking to buy an exotic?
Micah: The best advice that I would give to someone thinking about purchasing an exotic car is to DO IT. Life is short, and if you can break even or even make some money on an exotic car, why wouldn't you buy one?
I mean you have to drive anyway, right? You might as well drive a sick exotic! If you do your research to make sure that you are purchasing the right car and have a PPI completed before the purchase, you really can't go wrong.
How is your life different now with exotic car ownership?
Micah: Exotic ownership is rad. It's amazing what a car can do for your credibility. It commands respect. You can go from a random kid to somebody who is asked by everyone what you do for a living.
My experience was absolutely nothing like the scary articles you read from mainstream car magazines that say you must be a millionaire to own one. I owned the car for just over a year, I only had to do a single oil change, and that was it for maintenance.
I also bought some other parts: like a different grill, performance air filters, gas struts for the hood, doors, and trunk, and a set of used 3-pieced HRE wheels. After it was all said and done, I was able to pocket a profit of $5,000 on my Vantage.
What's next for you?
Micah: I've been investing a lot of money into expanding my business, but I am also keeping my eyes open for my next exotic!
I haven't completely decided on what it will be, but the right deal will come along. Patience is a big part of purchasing the right exotic, so I don't want to rush into anything.
I have been looking into an Aston Martin DBS, Audi R8, Lamborghini Gallardo, or a Ferrari 360. We'll see which one I can pick up first! I'm looking forward to many more exotic cars in the future!
We here at Exotic Car Hacks would like to thank Micah for sharing his story with us.
If you would like to learn the exact strategies Micah used to not only buy and enjoy an exotic, but flip it for a profit of $5k, I am hosting a FREE webinar that will teach you step-by-step how you can too.
Seats are limited, but you can register here for our next training class: www.exoticcarhacks.com/freetraining