Perhaps one of the bargains of the century and a perfect candidate for our Exotic Car Hacks strategies is the 03-08 Mercedes-Benz SL55 AMG (often referred as platform code R230). A car that once cost over $110,000 can now be owned for a mere 25% of the original asking price.
This era of Mercedes-Benz stands out in the history of the manufacturer because every car produced not only looked great, but also had enough competitive advantage to compete with the likes of BMW. Where Mercedes lacked in performance, AMG in Affalterbach came in and gave their performance touch. While Mercedes were never known to be great handling cars until recently, there was no denying these cars were absolute torque monsters and made for the autobahn.
This era was also the last time Mercedes truly made a supercar with the McLaren SLR which had a 617 HP V8 that was based off the SL55 engine block.
Why is the SL55 AMG such a good buy?
First, it has the legendary M113K engine that is a 5.5L supercharged V8 making almost 500 HP and a bit more than 500 lb-ft of torque. This engine has proven to be bulletproof and can easily make 700+ HP with minor bolt-ons. Not to say you'll need to modify the engine as we've heard unrestricted SL55s can hit 202 MPH in an otherwise stock car.
Second, the SL55 has a 16 second foldable hard top that looks equally as good with the top up as with the top down. You have the best of both worths without sacrificing anything really other than extra weight to carry around.
Third, is how much you can buy these cars for now. As you'll learn in this buyers guide, there are specific years to look for but even the best year to buy (we'll cover later) can be had for just under $30,000. Early model SL55s can be had in low $20,000 mark. This absolutely a great bang for the buck.
Mercedes SL55 AMG Changes Over The Years
03 – 06
2003 was the introductory year for the SL55 in the USA but it had actually been on sale in Europe starting in 2002. As with all first model year cars, there are bound to be issues and the SL55 was no exception. Electrical and mechanical gremlins haunted the SL55 but Mercedes made significant improvements to resolve most issues by 2005. The Keyless Go option in 2003 required a separate credit card to be carried at all times for Keyless Go to work. A dumb afterthought in our book and not worth the trouble.
The 2004 models were pretty much identical except Mercedes got rid of the extra credit card for Keyless Go. It is also rumored that the transmission was changed mechanically to allow for manual in shifting for all modes. In the 2003 model only manual mode allowed for that. Otherwise, the 2004 was nearly identical as the 2003 model.
Before the redesign in 2007, the 2005 SL55 had almost all of the kinks worked out and has been the preferred year to purchase. Mercedes updated the COMAND interface and improved the navigation to be DVD based instead of CD. Still horrible by todays standards but a bit more acceptable. The only flaw for the 2005 year was the removal of the auxiliary port in favor of iPod integration.
For 2006, the SL55 remained unchanged except for the addition of the optional yet rare $15,000 P030 Performance Package. These changes included an SL65 front bumper, larger SL65 compound brakes, re-calibrated suspension tuned based on Nurburgring specs, a limited slip differential, alcantara lined steering wheel, unrestricted to 186 MPH, and 19″ two-piece wheels. To most people, these changes made the SL55 appear to be an SL65 but without the V12. These were all very worthwhile changes for the track-minded enthusiast.
07-08
Mercedes decided to freshen up the SL55 AMG in 2007 by giving it a very minor appearance upgrade. Again, to most consumers, and even enthusiasts, the 2007 SL55 looked almost identical to the previous years and even to its big brother SL65. 2007 changes included a bump in horsepower to 510 HP, slightly revised front bumper, clear glass taillights, shifter paddles instead of shifter buttons, quicker steering ratio, re-calibrated ABC suspension, and standard 19″ 5 spoke wheels. All these efforts made the SL55 'look' a bit more modern but mechanically was the same underneath.
There are no known changes for the 2008 model which is probably due in part to the all new generation that debuted in 2009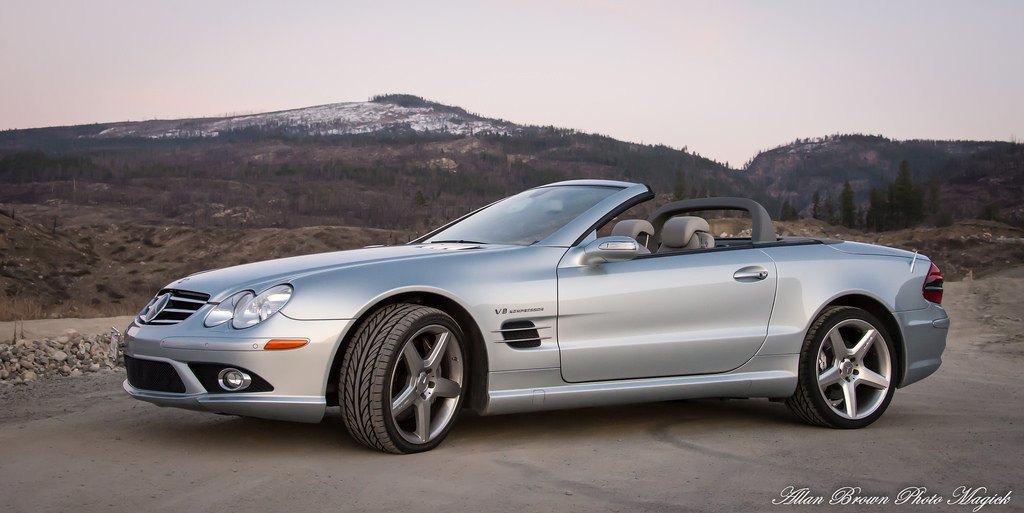 Common Problems
Most, if any, of the common issues found on the SL55 will be mechanical and not electrical. Perhaps the most common issue on the SL55 AMG revolves around the ABC suspension, this isn't just specific to the SL series but any other Mercedes that shares the same components until it was addressed after 2007 with the introduction of ABC II. The obvious sign of ABC suspension failure is one corner or side of the car drooping which basically means a leak has formed. Since most SL55s are no longer under warranty, you can either opt for the OEM fix of nearly $5,000+ or opt for a reputable third party company like Arnott for half the cost.
Cost of Ownership
Since the SL55 AMG has been out for a decade now, much more aftermarket support and parts have been brought to the market. Because Mercedes commonly uses the same AMG parts across its line up of models, it allows consumers to save a few bucks when required to buy parts. You can even buy parts on Amazon.
Oil changes will run you around $100 from a qualified independent shop and brake pads alone are under $200 for all four corners. Rotors are equally as cheap if the car is not optioned with the P030 Performance Package. Otherwise, general maintenance isn't bad at all. Rear tires will generally last 10k – 15k miles max because of the available on demand torque.
You should also note that fuel economy is not a strong point of the SL55 and it's not uncommon to average below 15 MPGs.
Best Year SL55 AMG to Buy
Mercedes built more SL55 AMG models in 2003 – 2004, than 2005 – 2008 combined. We recommend staying away from the 2003 – 2004, and opting for a 2005 model instead. If you think the subtle upgrades in 2007 are worth an extra premium then go for it but for us, 2005 offers the best balance of affordability and reliability, all while containing all the same gadgets. We always recommend a well optioned car but must-have options are Panoramic roof, Keyless Go, Parktronic, and Active Ventilated Seats.
Regardless of what year you choose, you'll have a car that rivals the Dodge Viper in brute power, but also offers you the comfort of a BMW 7 Series. Just don't expect a nimble car you can toss around or the sharpness you get from today's sports cars. It is, after all, over 10 years old.
Hack-Ability Meter