Welcome to Exotic Car Hacks!
My name is Pejman Ghadimi, and I am excited to have you join our community of savvy car buyers who would rather make money driving exotic and luxury cars, rather than lose it.

We believe no one should have to drive a boring car, which is why we have created this platform to help people realize the possibilities of the car buying world.

Our mission is to provide the education and expose the loopholes of the luxury and exotic auto markets.

Between dealer margins, sleazy tricks, and backend deals, there are tens of thousand of dollars being lost from consumers with each and every car purchase they make.

While we understand dealers have to make money to stay in business, there are ways for consumers to not be taken advantage of and still not only drive the car of their dreams, but to actually turn these hobbies (which can be a liability) into solid assets, therefore allowing you to drive the car of your dreams at a fraction of the cost, at no cost, or actually make you money.

Regardless of which you choose, it is better than the alternative of losing money on what you love: CARS.

For the past 8 years, we have been compiling resources, identifying dealer margins, and conducting interviews so that we can bring you some of the best exotic car related information available out there to help you make the deals you want, and the network you need, to help you eliminate or lower any costs associated with your luxury or exotic cars.

If it's your first time joining us, we know that the world of exotic cars may seem overwhelming and we know it is filled with myths often started by people who have never owned one.

How many times have you heard that exotic cars are expensive to fix?

Or that insurance is hard to come by?

Or that if you can't afford it in cash, you shouldn't buy it?

All of these are myths that prevent ordinary people from looking into extraordinary cars and this is why you can keep reading to understand more about our platform and how to use it to benefit you the most.

Who am I?
My name is Pejman Ghadimi. I am a serial entrepreneur and avid car collector.

While today I am well off financially, I still use the strategies I teach with every single car I buy.

Years ago I realized I really loved cars, but at that time couldn't afford to drive anything I wanted, and certainly didn't have enough money to buy many exotics at once.

This forced me to get creative in the way I looked at cars and pushed me to discover how to turn every car I bought from a liability into an asset, as well as leverage financial tools (since I had a long background in banking), to afford all I wanted without putting large amounts of money as down payments or needing to buy cash.

Understanding the best ways to buy lead me to understanding what and how to buy, and it eventually became a process after doing this over 50 times in the past few years.

With each experience, I interact with new dealers and discover new margins, as well as new information on each and every car (things I share with our Insider Members).

By using these strategies, I was able to buy a Porsche 911 Turbo at age 21, followed by a Lamborghini Gallardo when I turned 23, and every year since have owned different exotics and at times many simultaneously.

I have even taken a liking to Aston Martins as my all time favorite exotic car brand (I've owned over 8).
Why Only Luxury And Exotic Cars?
Before I drove luxury and exotic cars, I used to drive normal day-to-day cars like Hondas and Fords like most people.

I would not only always lose money when I wanted a new car, but I would also only look at cars from the basic untrained eye which considers only one thing: the car payment I would have.

Fast forward years later, I bought my first exotic and drove it for 2 years only to sell it for the exact same price I had bought it for and realized something didn't make sense.

I had experienced what are called dealer margins and believe it or not, the margins on luxury and exotic cars are vast and the volume is very low, meaning dealers can make more money for each car sold rather than make a small amount on every car.

This idea of margins had me intrigued and I realized that while margins played a big role in dealer profits, there were other rules dealers had about how to handle exotic cars.

Understanding that these rules, processes, and margins only applied to exotic and luxury cars made me realize that there is whole new opportunity in the marketplace for smart savvy buyers who can understand these intricate concepts.

This doesn't mean that what you see here won't help you if you're not in the market for an exotic or luxury car.

In fact, a lot of what we discuss can still be applied towards regular cars, and even entry level luxury or sports cars.

The difference, like I mentioned above, is that margins are more significant on exotics which makes this system work particularly better on them.
I want you to drive a better car, plain and simple. I also want to make sure you no longer lose money doing it.
Exotic Car Hacks is NOT just a website, it is an entire platform to teach you everything you need to know about owning the car of your dreams, at a fraction of the cost.
Throughout this website and our YouTube channel, you can find hundreds of FREE articles and videos (updated weekly), to help you understand the exotic car market and answer 99% of questions you may have.
If that is not enough and you prefer more of a personal approach, you can also become an Insider Member and get access to my step-by-step video training course where I will breakdown step-by-step everything you need to know to be able to buy, sell, and trade exotic cars for fun and profit.
Insider Members also get very detailed buyer's guides, list of the best cars for the money, private resources like which car repair shops to use, and the best places to get very low financing all written from personal experience and always updated.
Not only that, I share with you case studies of EVERY car I have owned since I've started using these strategies, and break down to the exact cents my cost of ownership, regardless if its profit or loss.
I even go as far as presenting you the top 10 cars I am personally looking at weekly (almost as if it was the stock market) and give you my thoughts on what I think its worth if you wanted to buy it.
The idea of Exotic Car Hacks was more than just teaching, it's helping bring people together in our community so that we can all continue to make good profitable decisions around what we are most passionate about: cars.
Does Exotic Car Hacks work?
Don't just take my word for it. Here's a small sample of students who have followed my system and bought their dream car. Here's a bunch more testimonials.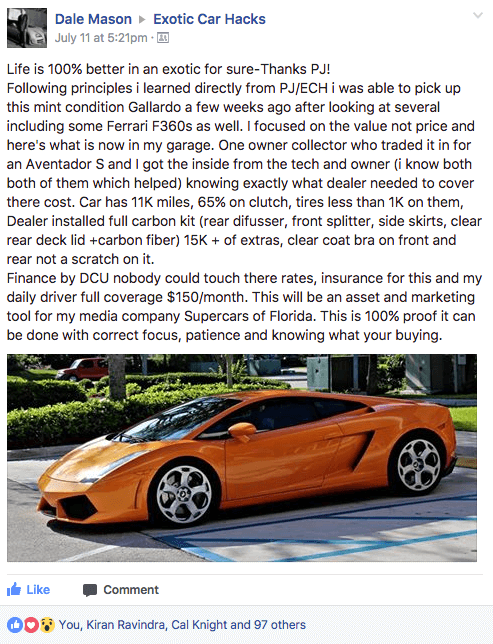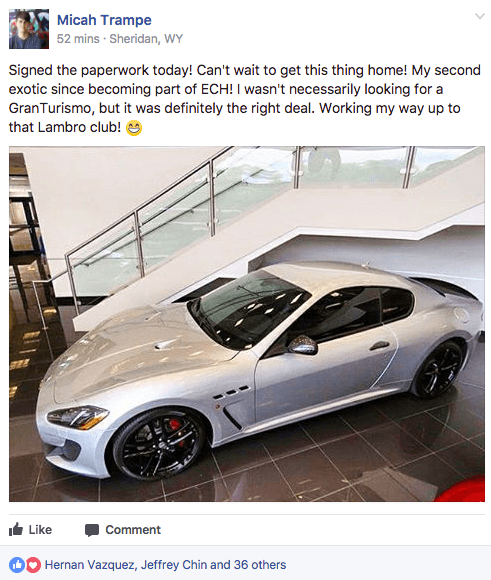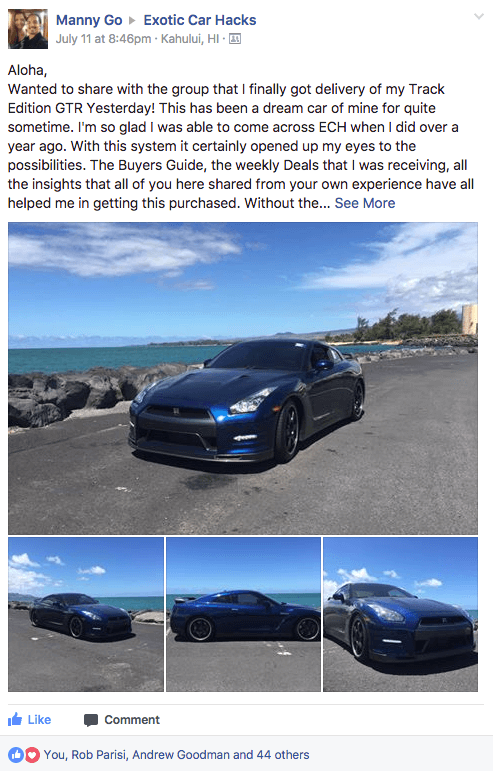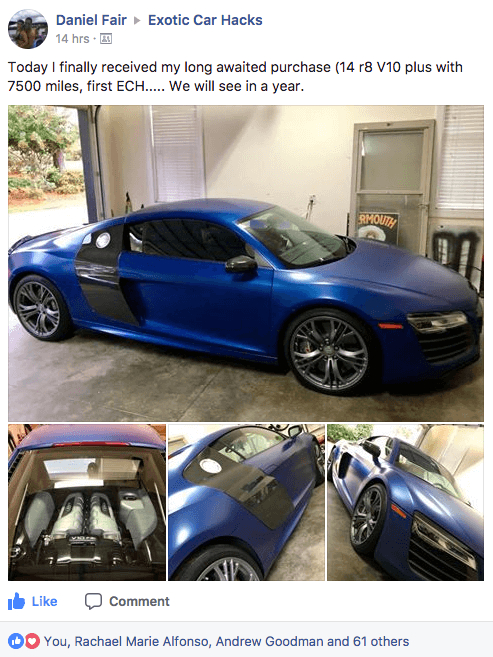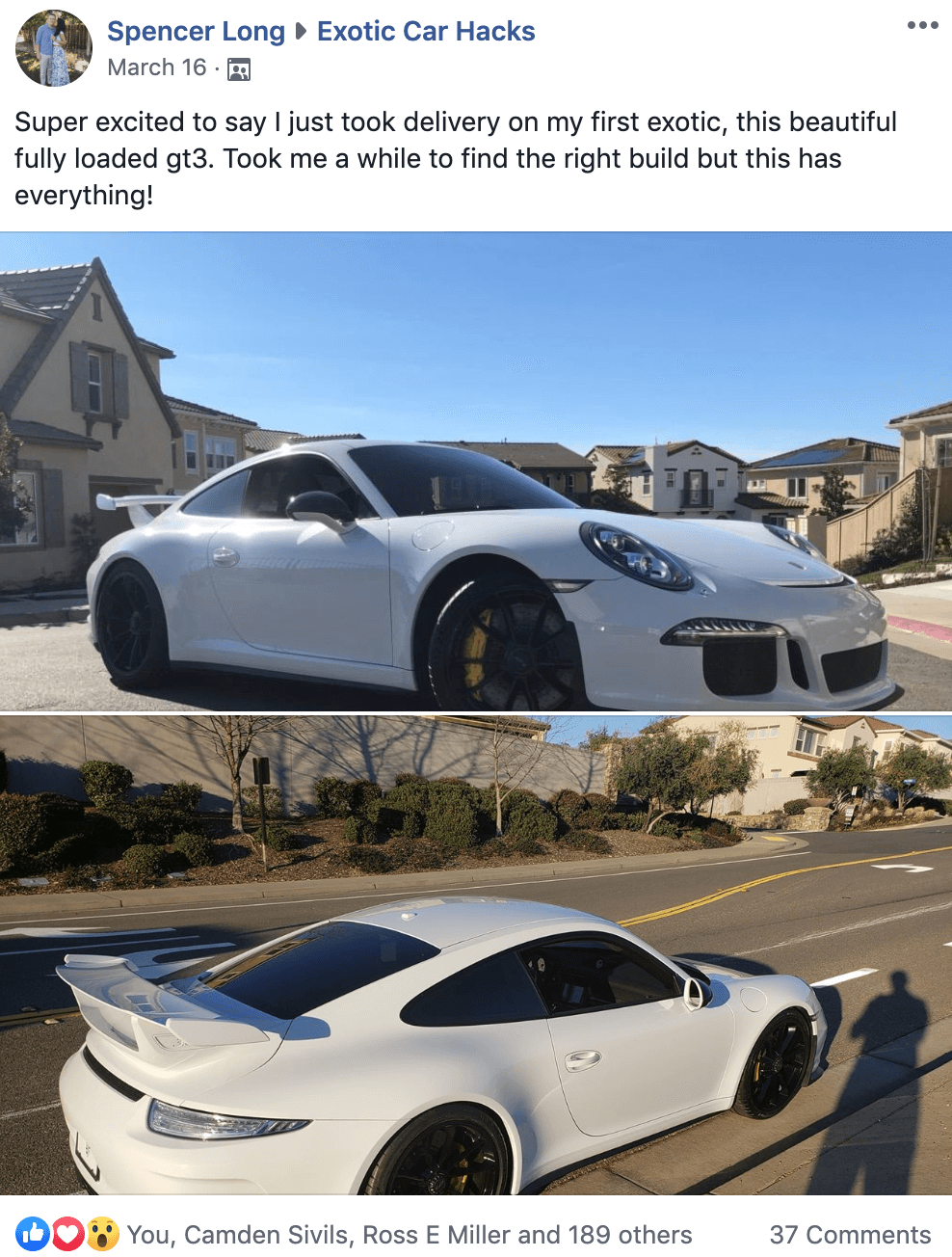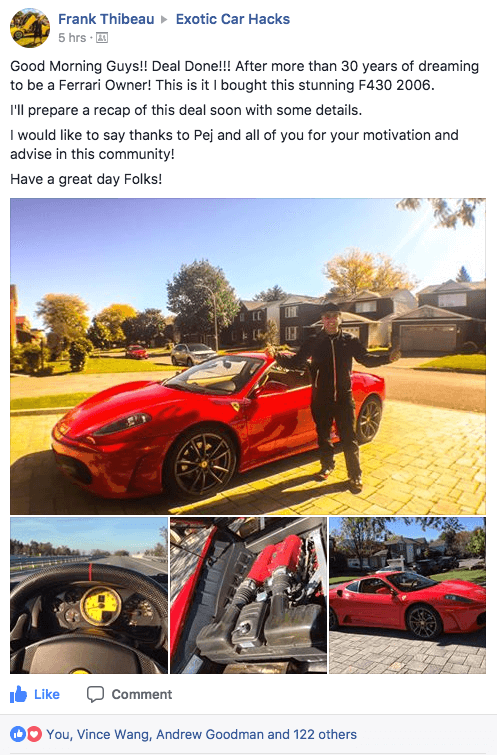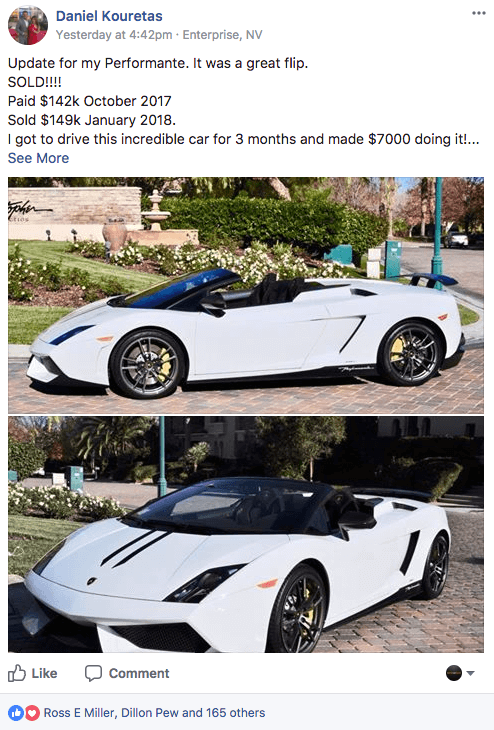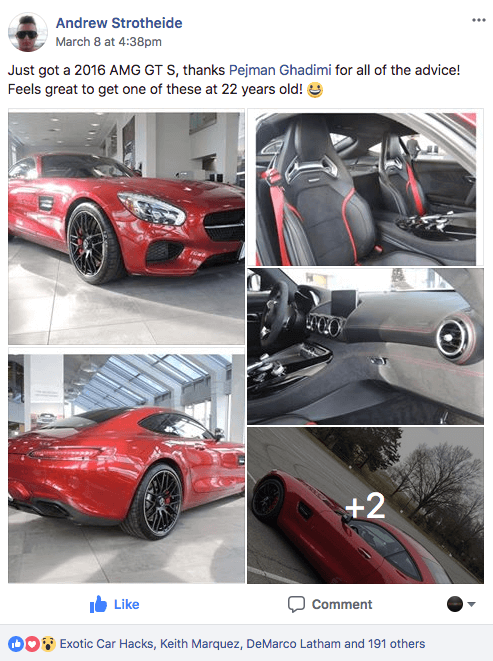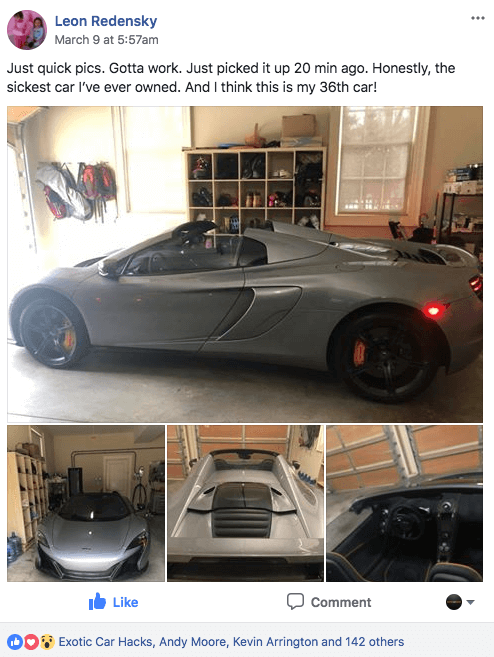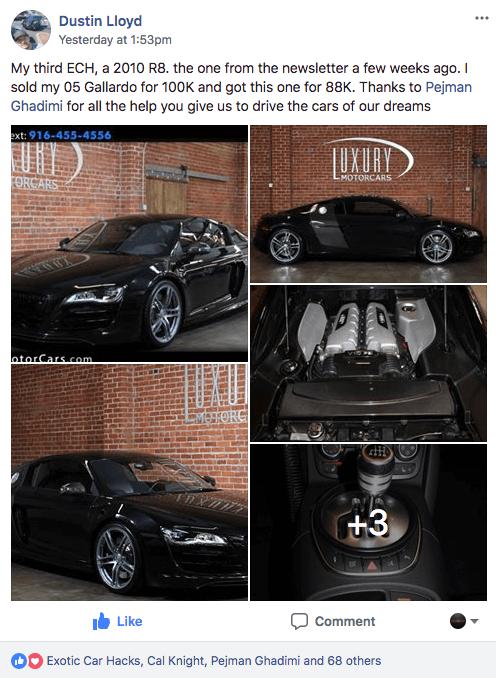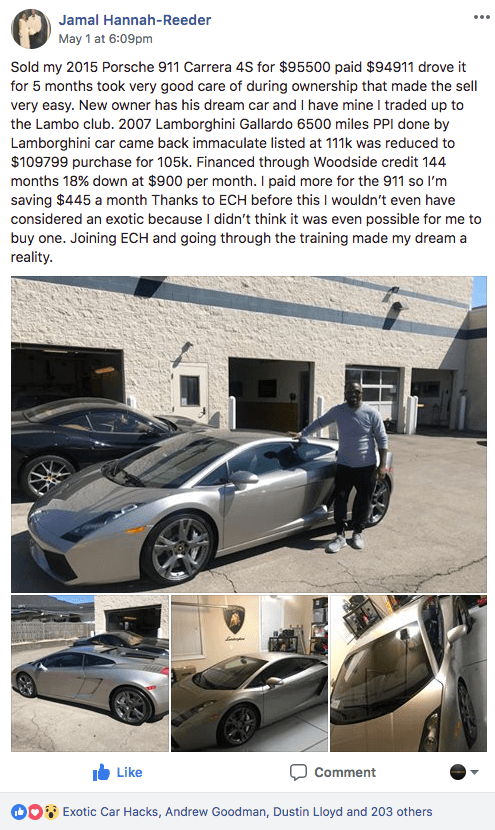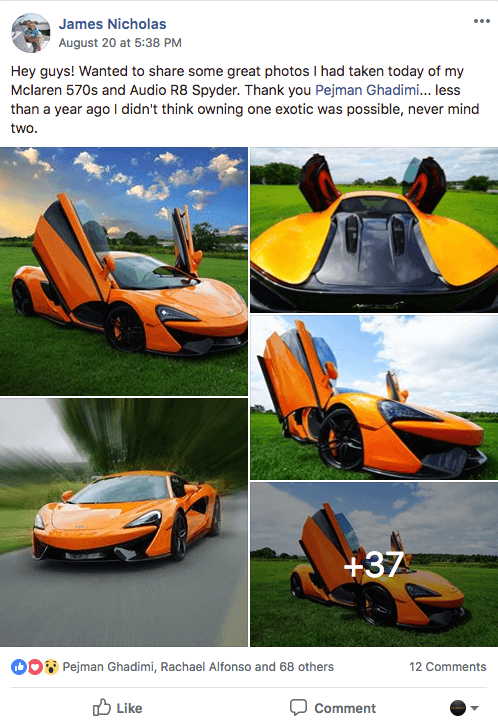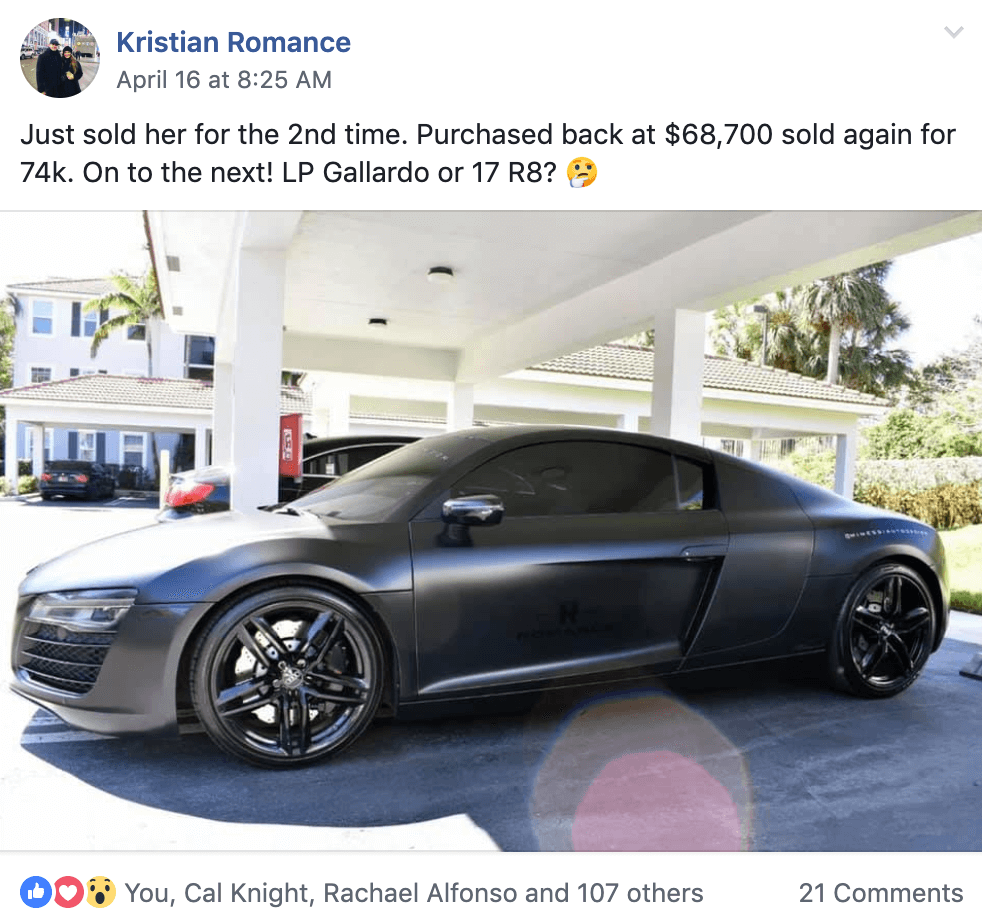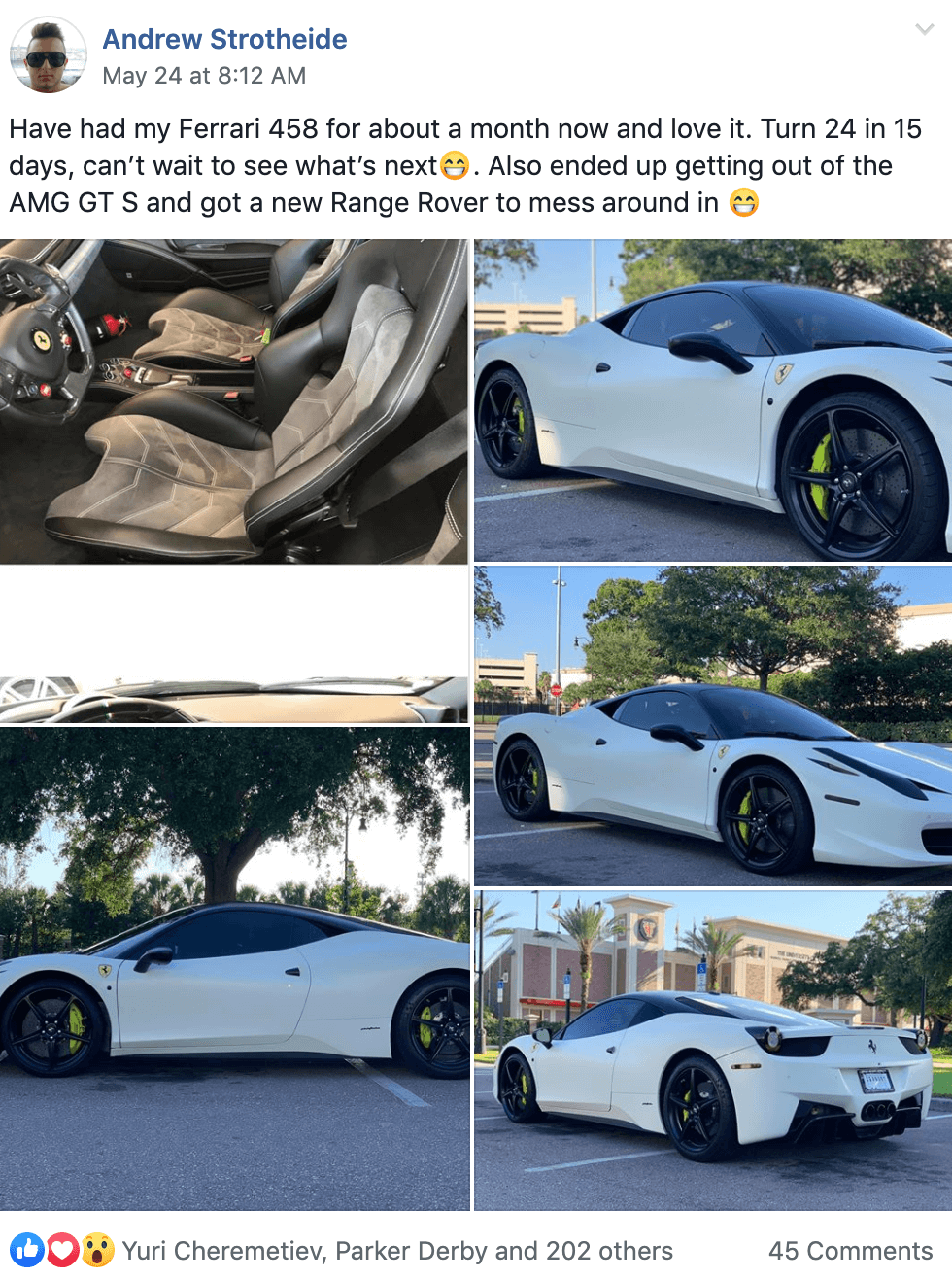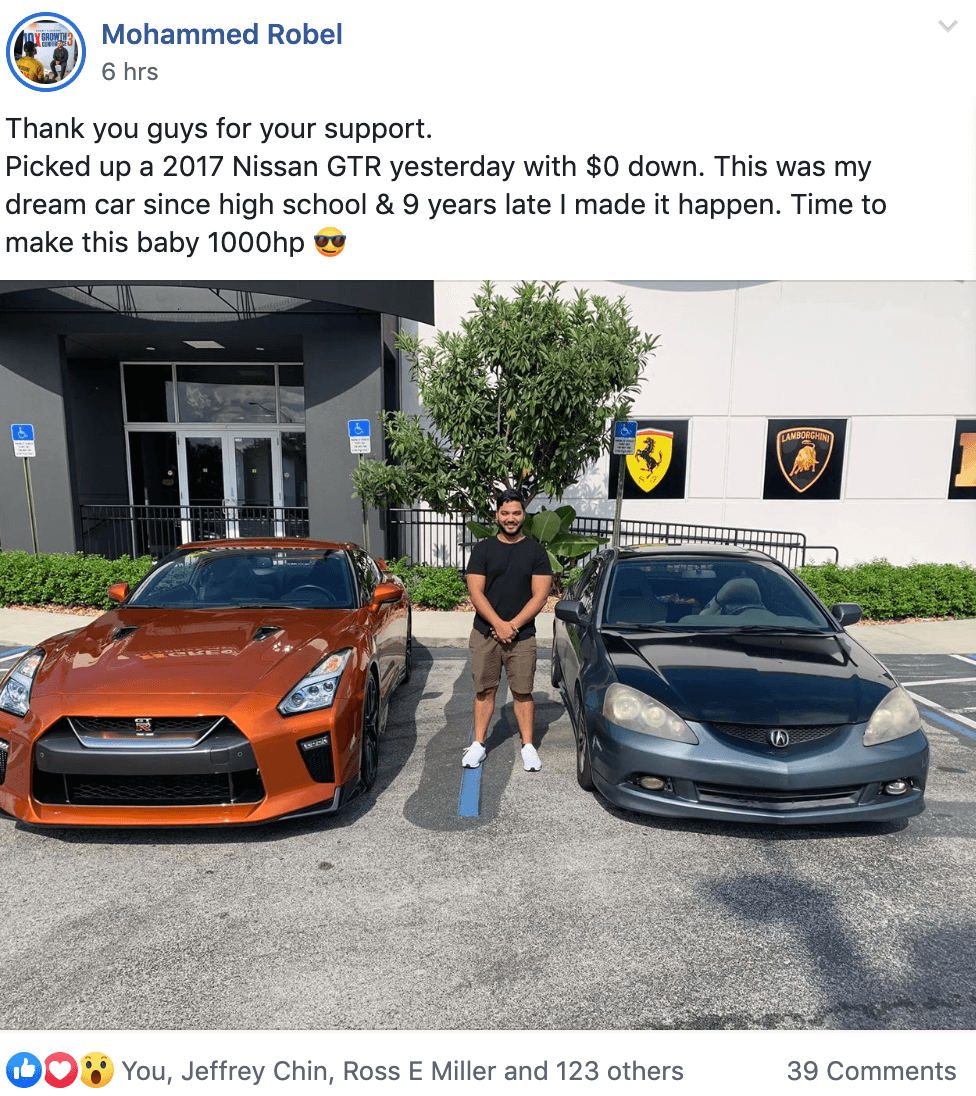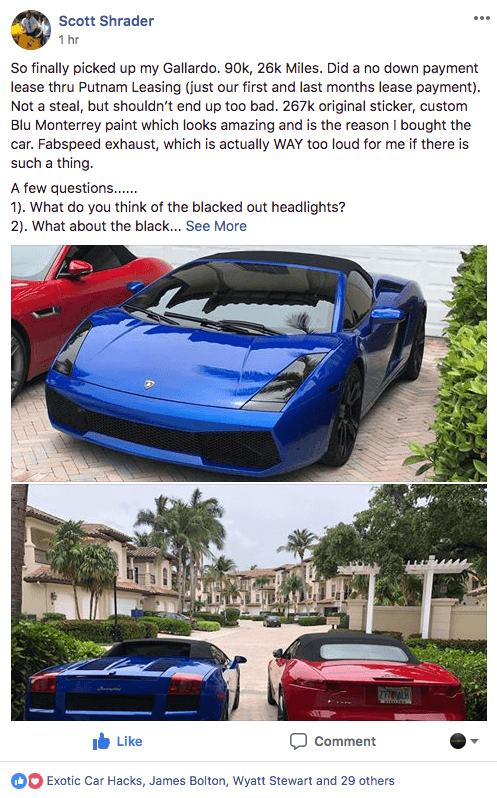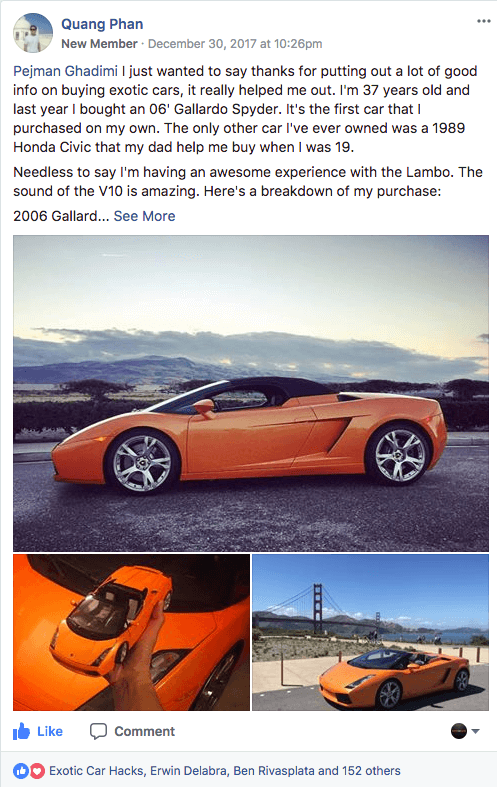 Now with that said, there are simply three ways for you to get started and one step closer to driving an exotic car…
If you want see more about what I teach and check out some of the content available, click here to read the latest articles that is updated weekly.
If you want to learn how I've been able to make money driving cars, click here to sign up for a free training where I will teach you how to buy an exotic car in less than 90 days WITHOUT being a millionaire.
If you are ready to buy a car NOW and want a shortcut to getting the best deal on the car you want, click here to become an Insider Member to unlock full access and join our private community
Feel free to connect with me on Instagram, YouTube, or Facebook. Also I do my best to respond to all comments left on articles.
I look forward to helping you get the car of your dreams. After all, life is better in an exotic!
– Pejman