When the German automotive titan Mercedes-Benz decided they needed a successor to the incredible SLR McLaren, the world knew what would come next would be something special. But little did we know the SLS AMG would be that car.
The SLS AMG was mostly handmade and designed fully in-house by AMG, a first for the group. It was a car that carries with it an alluring nostalgic presence giving new life to the original 300 SL design of 1954, yet delivering modern mind-blowing performance figures. The SLS AMG seemed to be the perfect blend of old and new.
Boasting some impressive numbers, the SLS AMG was fitted with a 6.2L naturally aspirated V8 engine (as found in the C63 AMG) producing a staggering 563hp and 479lb ft of torque.
This propels the SLS AMG from 0-60mph in a swift 3.7 seconds and onto a top speed of 198mph.
At the time, these figures would prove to be a milestone for Mercedes-Benz as this engine would be the most powerful naturally aspirated engine ever produced (a fitting coincidence since the 300 SL was, at the time, the most powerful production car available when it was first sold).
This record still stands to this day, as Mercedes-Benz and other manufacturers have approached creating their newer vehicles with smaller displacement forced induction engines.
The SLS AMG sends all that power to the rear wheels and makes this car a truly authentic grand tourer with its massive engine in the front further helping to distribute the 3,571 lbs of low slung German splendor.
The transmission is also located in the rear to keep the balance just right. In an effort to keep the overall weight down Mercedes Benz opted to use a lightweight aluminum chassis and body frame, another first for the company.
In the looks department, the SLS AMG is a car that will stop one in their tracks, as no other modern Mercedes looks anything like this. Not to mention the neck breaking that happens when the gull-wing doors go up.
Normally when automakers decide to re-imagine a design from days of old, the result usually bears little to resemblance to the original or is a repulsive re-imagining thereof, but not here.
Mercedes-Benz delivers an absolutely stunning rendition of the classically beautiful 300 SL design with the contemporary features and look current buyers and onlookers are drooling over.
Up front the SLS AMG displays hints of the past, most noticeably the gaping wide front grill which is charming and proud characteristic of the original 300 SL. Although much wider and more pronounced, this feature is a classy way to show just how much the old design shows itself.
The massive void in the grill allows the engine to get plenty of air while the side and lower vents help to circulate air under the hood as well as pushing air past the massive brakes to cool the components.
The headlights of the SLS AMG are smoothly pressed into the front fender and fall flawlessly along the design lines of the car. These lights feature LED running lights as well as vivid low beams which illuminate the road as you hit the turns.
Moving down the side of the SLS AMG, one can really appreciate a perspective for how unique the shape and proportions of this car really are. This blast from the past seems like a time traveler who took a turn into 2012. Immediately apparent is the long front end housing the massively powerful V8 beneath.
The engine of this car has been mounted lower and in such a way as to provide ample weight distribution and center of gravity. The driver is seated just in front of the rear axle allowing for a driving experience and feel that is immediately much different than that of any other car on the road today.
The side vents behind the front wheels echo from the past and act as an exhaust outlet for hot air from the engine bay which pulls the air alongside the car. The SLS AMG roof line is a low and squat design just peeking behind that huge front end.
And of course we can't forget about those incredible gull-wing doors. Where safety is concerned Mercedes-Benz have taken careful considerations that in the event of a rollover, the SLS AMG gull-wing doors are fitted with explosive charges that, after 10-15 seconds of the car being upside down, will detonate dislodging the doors from their housings freeing the occupants still inside.
Moving towards the rear of the vehicle we see a tucked and tight design. The short rear deck section of the car planted underneath an incredible curved pane of rear glass which wraps around the corners of the roof ever so slightly will surely satisfy any onlooker who happened to see this car drive past.
The complementary angle of the trunk line and headlight shape really add to the tidiness of the rear end as well. Hiding away at the back is the deployable rear spoiler which lifts out of the trunk lid to provide additional downforce. Beautifully shaped exhaust pipes bellow out proudly one of the most intoxicating sounds out of any car and will be sure to deliver unlimited amounts of goosebumps.
Driving Experience
Driving this car on the road is an experience that will make you realize just how special the SLS AMG really is. When you look around there is nothing that looks like it and very little that can compete with it.
Whether you're driving through the city or winding your way through twisty mountain and country roads, the SLS AMG has plenty of ways to win your affection.
The SLS AMG feels tight on the road and stable. There is no sense of vagueness to the feedback you receive from the steering and braking at high or low speeds and is surprisingly nimble around town.
On the other hand, the SLS AMG doesn't let you forget the savage power it's packing either, offering up a overflowing spring of excitement that will be sure to leave anyone seeking a thrill well satisfied. It's capability and range make this car that much more enticing.
For day-to-day usage, the SLS AMG is a very capable and comfortable car. Just looking at the car one might think it's muscular form and elongated proportions would mean poor city handling, and that's not the case whatsoever.
Drivers will find a pleasant Mercedes-Benz familiarity when going to get groceries or heading out for a bite to eat, easily maneuvering this car through the streets.
In fact, the SLS AMG has a footprint that is not much bigger than your common hatchback which makes city use a lot easier to justify. The trunk space is small yet adequate for the fitting of two golf bags.
At the pumps it should come to no surprise to anyone to learn the SLS AMG has a fuel range of 15mpg with mixed highway and city driving because of the 6.2L thirsty beast that lives under the hood.
Under harder driving conditions the SLS AMG comes alive savagely pounding the senses with an overload of acceleration, excitement, and a rumbling thunderous sound.
To keep this incredible car planted firmly on the road engineers at Mercedes-Benz have fitted the SLS AMG with race inspired aluminum double wishbone suspension for maximum contact. Put that together with the 53% rear to 47% front weight distribution, we quickly realize that the SLS AMG is a full on supercar as much as a grand tourer.
Drivers will have a number of driving modes to choose from when opening the taps of the SLS AMG. Aside from comfort mode, this incredible car comes with individual settings that change some key aspects of the cars setup like suspension compliance and throttle response. There is Controlled Efficiency mode, Sport, Sport Plus, Manual and an additional setting offering drivers launch control.
After launching this rocket of a car, drivers will be thankful for the massive 15" six-piston aluminum front and 14" four-piston rear brakes that make sure this car can stop in a hurry with a 60-0 mph time of 98 feet.
Heading inside the SLS AMG first means unlocking the car to see those pop out door handles. Once inside drivers will immediately notice the proportions of the interior cabin convey a sense of weight. Nothing in the car's interior is inferior, fragile, or weak, everything feels sturdy, solid and elegantly constructed. Every piece of aluminum within the interior cabin adds a sense of class to the SLS AMG.
Fine leather and stitching work adorns the cabin with a comfortable yet luxurious sporty feel. The center console features a push button start as well as houses some other features such as the controls to select driving modes, traction control, and a button to raise or lower the rear spoiler. One other button is present on the center console which is the AMG button, this button changes the screen display to telemetry for cars fitted with the AMG Performance Media package.
The HUD located behind the leather wrapped AMG flat bottomed steering wheel houses an analog speedometer and tachometer with a central screen that displays information like speed, coolant temperature, oil temperature, exterior temperature and current time among many things.
Directly above this screen is an array of LED's which light up as the RPM's climb prompting the driver to shift through any one of the SLS AMG seven available gears.
SLS AMG Common Problems and Issues
The SLS AMG has been considered to one of the best exotic cars ever made. That may be true, but like any other car on the road, the SLS AMG has its own set of specific mechanical problems and issues.
Passenger Airbag Recall
Mercedes-Benz issued a recall (NHTSA 16V081) to a number of SLS AMG models from 2011 – 2015 regarding the Takata airbags of the vehicle.
The passenger side front airbag assembly contains a module that deploys the airbag and propellant in the event of a crash. This propellant has been shown to deteriorate over time especially when the vehicle is exposed to repetitive cycling of cool and warm temperatures.
This can ultimately lead to the airbag deploying in the future rupturing the inflator module which can then send metal shrapnel through the airbag and at the vehicle occupants potentially striking them fatally.
This is obviously a massive concern for owners and automaker alike. Dealers will be on contact with owners via VIN numbers to perform recall repairs on affected vehicles free of charge.
Not Short People Friendly
Many drivers have already noted that this car may not be best suited for those of shorter stature. Even for someone just under 6ft door handles can be out of reach for some, leaving one with an outstretched arm and a bright red face. This, of course, is remedied by Mercedes-Benz with a leather strap which can be fitted to the doors of the SLS AMG to allow those shorter passengers to close their own door.
The seat position can also become a bit of a nuisance as shorter drivers will feel too far from the driver's wheel leaving them with a uncomfortable driving position.
Transmission Lag
Although the SLS AMG comes with a dual clutch transmission standard (same transmission as Ferrari 458), many owners of 2011 – 2012 cars complained about slow shifts. Several owners that have driven the 2013 SLS AMG GT back-to-back with their own cars felt a noticeable difference immediately.
This lead the SLS AMG community to petition for a transmission software update that would fix the issue for 2009 – 2012 cars.
Luckily Mercedes-Benz and AMG heard the complaints of the people and offered a free upgrade to SLS AMG owners before 2013.
This is a MUST DO so please have your dealership refer to TIPS Document: LI27.60-P-051188 and Coverage: 197.377 & 197.477
SLS AMG Maintenance and Cost of Ownership
Maintaining the SLS is relatively easy on the pocket when you consider that to buy one off the showroom floor would cost one nearly $200,000.
Mercedes-Benz provides a detailed breakdown of the annual maintenance schedule of the SLS AMG in the owner's manual and alternatively online.
Service A (10,000 Miles Interval) – $200 (Dealer Cost)
Mercedes-Benz Synthetic Motor Oil Replacement
Oil filter replacement
All fluid level checks and corrections are dependent on factory-recommended service intervals for your vehicle's year and model.
Tire inflation check and correction
Brake component inspection
Reset maintenance counter
Service B (20,000 Miles Interval) – $500 (Dealer Cost)
Mercedes-Benz Synthetic Motor Oil Replacement
Oil Filter Replacement
Replace cabin filter
Brake fluid change
All fluid level checks and corrections are dependent on factory-recommended service intervals for your vehicle's year and model.
Set tire pressures including spare reset tire pressure monitoring system (if applicable)
Brake component check
Reset maintenance counter
Brake Pads and Rotors
While carbon ceramic brakes should last the duration of the SLS AMG lifespan, cars that came with steel brakes standard will need to change the brake pads and rotors at some point.
There are not too many aftermarket options available, but pads will run you around $400 for front/rear and rotors will run you about $2500 for front/rear from Girodisc. Expect to pay more for OEM parts at the dealer.
SLS AMG Model Year Differences
2011 Mercedes-Benz SLS AMG
2011 was the first production year of the Mercedes-Benz SLS AMG and stunned the North American automotive scene with Mercedes-Benz's first true sports car in over a decade. The base price of the 2011 SLS AMG was $185,750 and came with an array of available options as you would expect.
Nine colors were offered with 2 being standard (black and silver), and the rest being $2,300 for other metallic colors, $3,950 for matte grey finish, or $12,750 extra for the 'liquid metal' ALU-BEAM Silver.
Standard interior leather choices were black, tan, beige, and red, but two-tone options were available through the Designo program for an extra $750.
Three different wheel options were available, with the only one charging a premium at $2,400 for 10 spoke forged wheels.
The other options included Bang and Olufsen sound system for $6,400, carbon fiber trim only for $4,500, extended carbon fiber interior (includes trim plus door sills, seat frames) for $9,000, carbon ceramic brakes for $12,500, AMG performance suspension (stiffer shocks and springs) for $1,500, alcantara steering wheel for $500, carbon fiber side mirrors for $1,900, and carbon fiber engine panels for $5,400.
As you can see, it was not uncommon to see Mercedes-Benz SLS AMG with sticker prices exceeding $200k MSRP.
2012 Mercedes-Benz SLS AMG
2012 brought the launch of the SLS AMG Roadster complete with a soft top folding system that operates from open to close in 11 seconds and is operational even at 31mph. Base price for the SLS AMG Roadster started at $198k.
The largest change would be the use of conventional doors and a further reinforced chassis. The construction of the soft top would consist of layered fabrics (black, beige, or red) on a magnesium, steel and aluminium tubular frame.
Color wise, Mercedes-Benz dumped the Daytona Blue color in exchange for an Espresso brown metallic finish and even offered the same Espresso brown as an interior leather option. Other interior changes was an added third trim finish of piano black lacquer for $2,500.
Blind spot monitoring system became a standard option on coupe and roadsters. All previous model year options were available once again with the only new options being piano black lacquer trim for $2,500, 10 spoke matte black and polished lip forged wheels for $3,400, AMG Performance Media (telemetry and data logging) for $2,500, AMG Adaptive Suspension (electronically controlled dampers with 3 settings: Comfort, Sport 1, Sport 2) for $2,500, and red caliper paint for $1,000.
2013 Mercedes-Benz SLS AMG GT
Proved to be a year filled with exciting iterations of the SLS AMG. First among them is the new SLS AMG GT, which became the standard and only model. This particular model would come with a 20hp increase bringing the overall performance figures of this car to 583hp and 479lb/ft of torque. The transmission would also see an upgrade that would shorten the shift time while driving in Manual Mode.
Base price for the SLS AMG GT started at $199k, while the SLS AMG GT Roadster started at $206k.
The SLS AMG GT added an arsenal of standard features to make up for the increase in base price. Standard equipment now include black leather/alcantara with red stitching interior, piano black lacquer trim, 10 spoke matte black inlay wheels, AMG Adaptive Suspension, red calipers, and smart key with AMG crest.
The 2013 SLS GT had subtle, but nice changes aesthetically that consisted of darker headlight and taillight housings, piano black instead of chrome body details, and of course GT badging.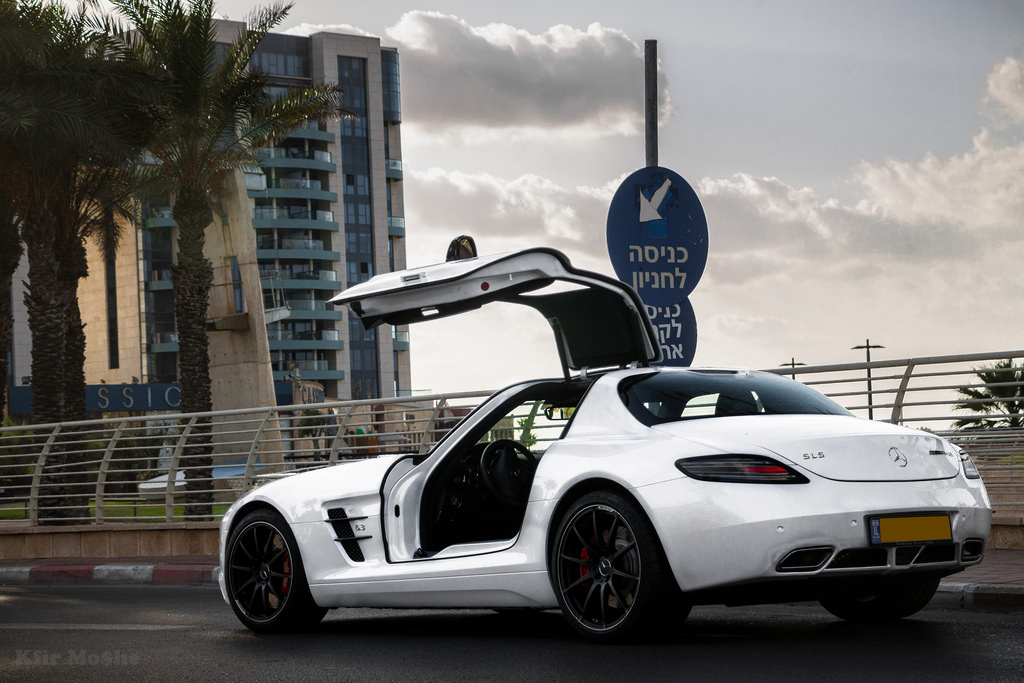 The interior followed suit with the piano black theme by updating the gauge faces and AC vents to piano black as well, which matched the standard piano black lacquer trim nicely.
Mercedes decided to discontinue AMG Performance Steering Wheel, AMG Performance Suspension, and their 7 Spoke Wheel in 2013.
While the exterior paint choices remained unchanged in 2013, the most significant change was the optional $4,500 Designo Style Package. This package made the base interior color Porcelain, but added stunning diamond stitching to the seat inserts and door panels. Buyers had the choice of three accent colors to mix with the Porcelain: red, brown, and grey. The two tone and diamond stitching certainly elevated the craftsmanship to another level.
2014 Mercedes-Benz SLS AMG GT
The 2014 SLS AMG GT remained relatively unchanged. Sometime during the 2013 manufacturing lifecycle, Mercedes switched the GT badging from black to red. On the topic of red, Mercedes also discontinued the LeMans Red in favor of a brighter Mars Red color.
All other options carried over from 2013. Otherwise, the 2014 SLS AMG GT remained unchanged.
However, the biggest news in 2014 would be the launch of perhaps Mercedes-Benz and AMG's most insane street car ever: the SLS AMG Black Series. Black Series models (like the CLK63 AMG Black Series or SL65 AMG Black Series) follow one simple formula for success: more horsepower, less weight, and a wider stance. It's safe to say that the SLS AMG Black Series did not disappoint.
Starting at a reasonable price of $275,000 and less than 200 produced, lucky owners of the SLS AMG Black Series would get an extra 39hp to reach a peak of 622hp, making the Black Series the most powerful naturally aspirated Mercedes of all time. A higher redline at 8000rpm allowed the SLS AMG Black Series to sprint from 0 to 60mph in 3.5 seconds and top out at 196mph.
To reach 622hp, the M159 featured shorter intake runners, ECU tune, revised timing and crankshaft components. The SLS AMG Black Series actually has 11 lb-ft less, but makes that up by shortening the final drive ratio to 4.44:1.
The dual clutch transmission shifts even faster than before and puts down the power through an electronically controlled rear differential that manages traction through massive Michelin Pilot Sport Cup 2 tires in wide 275 front and 325 rear tires that are wrapped around new 19×10-in front and 20×12-in rear forged wheels.
Mercedes-Benz took their winning GT3 recipe and applied it to the Black Series by decreasing overall weight by 154 lbs. This was achieved by exchanging standard parts for lighter weight counterparts such as standard carbon ceramic brakes, lithium ion battery, titanium exhaust system, and carbon fiber engine-to-transmission torque tube.
Of course you could expect nothing less than the most race inspired interior in the Black Series. Bucket seats were standard and you could only have alcantara as your choice of finish with carbon fiber and red stitching.
The GT3 racecar also inspired the look of the SLS AMG Black Series and its wide demeanor can be seen a mile away. Every angle of the Black Series has been improved for function over form and that includes the carbon fiber fenders, front spoiler, rear diffuser, adjustable rear wing, and vented side skirts.
In the handling department, many areas of the chassis braces were replaced for carbon fiber reinforced plastic to help save weight. Even the engine bay had a gas strut brace that countered against G-force loads. For the track minded enthusiasts, they've be glad to know that fully adjustable coilovers came standard.
Although there are a few options for the SLS AMG Black Series such as more carbon fiber and an aerodynamics package, most customers ordered them fully loaded. The only choice you have to make, if you're in the position to purchase one, is the decide which of the following colors appeals to you the most: black, silver, grey, red, yellow, or white.
2015 Mercedes-Benz SLS AMG GT Final Edition
2015 brought the final production version in ironically the same name: SLS AMG GT Final Edition. Only 350 production units in coupe and roadster form would roll off the assembly floor that year and also come with limited edition numbered plaques on every model.
The SLS AMG GT Final Edition featured no performance upgrades, however, one could distinguish a Final Edition from prior years through extensive carbon fiber that came standard. These cars had a bare carbon fiber hood, carbon fiber front spoiler, and carbon fiber wing from the Black Series.
Other noticeable standard features bespoke to the Final Edition were red calipers and two new 10 spoke wheels designs, available in either matte or polished finish.
Considered perhaps the nicest interior ever offered to date for the SLS AMG, the Final Edition featured a stunning black Designo leather interior with silver diamond stitching on the seat inserts and door panels. The steering wheel was full alcantara and the trim came carbon fiber as standard. No other interior colors were offered.
Many of the same options found in 2014 carried over such as carbon ceramic brakes, carbon fiber trim, mirrors, and engine panels, Bang and Olufsen sound system, and AMG Performance Media.
This was the last and final year for SLS AMG production.
List of SLS AMG Options
The SLS AMG would come with a number of options that any new owner could choose from to customize their car as they would see fit. Like many other automakers of this pedigree, Mercedes-Benz leaves nearly an unlimited range of options to choose from.
However, certain options are certainly nice to have and are even better to have for resale. These options include Bang and Olufsen Sound System, carbon fiber interior, and 10 spoke forged wheels.
Nice options to have, but not always a deal breaker include carbon ceramic brakes, designo two-tone interior, and any of the extra carbon fiber options: door sills, mirrors, or engine panels.
There are not really any bad colors as most SLS AMGs pulled off any of the available colors very well, regardless if it was matte or metallic finish. The only color I would be careful with is the Brown or Espresso color.
Below is an options price guide for the 2014 SLS AMG GT to give you an idea of what you could have expected to pay new and for you to leverage when researching your used SLS AMG.
Best Year SLS AMG To Buy
The SLS AMG is so similar over the life-cycle of the car, it's hard to just pick one year to focus on.
However, there is one common denominator and that is that coupes will always be more desirable than roadsters. The gull-wing doors on the coupe is simply the most attractive buying and selling point of the SLS AMG.
The 2013 SLS AMG GT stands out from the rest as the most well-rounded model in terms of value and options. Not only does the SLS AMG GT have more power, it also has the revised transmission software for faster shifting.
The standard options of designo black leather interior with red stitching, red calipers, piano black trim, and AMG Adaptive Suspension makes the 2013 model year almost the perfect car to buy without needing to spend thousands on extra options.
Even those who desire a higher level of luxury could find themselves in the beautiful cockpit of a Designo two-tone interior with diamond stitching.
This is not to say the 2011 or 2012 SLS AMG model years are rubbish. Since mechanically the SLS is the same throughout all the years, I would still consider one for the right price and perform the 2013 transmission software update.
Conclusion
The SLS AMG is a special car because of the era in which it was made. This car is a celebration of not only the history of Mercedes-Benz, but for automotive history.
In a time when the world is more environmentally conscious than ever and moving to small displacement engines, along comes the SLS AMG with its massive engine, thunderous growl, and nostalgic styling to say goodbye to a golden era.
With its stunning design and signature gull-wing doors, you cannot find any other car with this type of elegance and presence today on the market. Only the $1+ million Pagani Huayra and Tesla Model X come to mind when thinking of other production cars that have gull-wing doors.
Make no mistake that the SLS AMG will continue to be a crowd pleaser and head turner for many years to come. We can only expect that SLS AMG prices will continue to appreciate.
If you want to own one of Mercedes-Benz's best sports cars ever produced and a piece of automotive history, now is the time.
Hack-Ability Meter